Arizona Statewide Interoperability Coordinator (SWIC)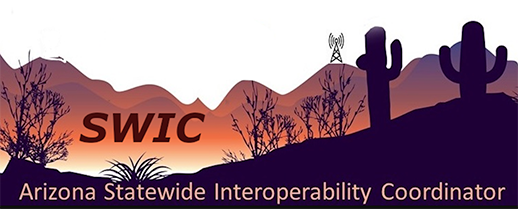 The Statewide Interoperability Coordinator (SWIC) plays a critical role in a state's interoperability effort. The SWIC works with emergency response leaders across all levels of government to implement a statewide strategic vision for interoperability. As part of this effort, SWICs are responsible for the implementation of the Statewide Communication Interoperability Plan (SCIP), which establishes a vision for interoperability in the state.
Committees
The Position Task Book Committee
The committee meets three to four times a year to review requests for state recognition for COML, COMT, INCM, INTD and the new AUXCOM Task BOOK. Please send a scanned copy of your task book to [email protected]. In your email request, please include your name and Task Book related skill set in the subject line.
Programs
National Emergency Communications Plan - September 2019
Interoperability
Arizona Interoperable Channels Plan and Priority Programming Guide
Emergency Communications Iceberg Graphic
National Interoperability Field Operations Guide (Version 1.6.1a)
Statewide Interoperability Communications Plan (SCIP)
Phoenix UASI Version 2.0 TICP - Please email [email protected] for password
FirstNet in Arizona
Contact Information
Arizona Statewide Interoperability Office: