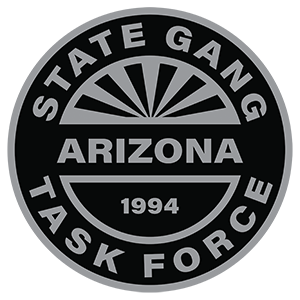 Gang & Immigration Intelligence Team Enforcement Mission (GIITEM)
The Gang & Immigration Intelligence Team Enforcement Mission (GIITEM) is a statewide multi-agency task force led by the AZDPS Gang Enforcement Bureau. The mission of the Arizona State Gang Task Force is, in collaboration with citizens, partnered agencies and intelligence resources, to suppress criminal gangs and transnational crime.
Vision Statement

The vision of the Arizona State Gang Task Force is to be the national model of a multi-agency gang task force.
GIITEM also manages the Detention Liaison Officer (DLO) Program. The DLO Program is an intelligence component and is comprised of detention officers from various sheriffs and corrections departments. DLOs serve as intelligence resources for local, county and state law enforcement by reporting criminal intelligence information related to the GIITEM mission and assisting detectives with investigations.
GIITEM Contact Information
Arizona Department of Public Safety
Criminal Investigations Division

Anonymous Tip Line Phone:
(888) No-Gangs (1 888-664-2647)

Gang Enforcement Bureau

Phone Number: (602) 223-2841

Address: P.O. Box 6638, MD 3700
Phoenix, AZ 85005-6638

United States

Northern District:

(928) 214-2535

Central District:

(602) 223-2561

Southern District:

(520) 746-4548

Major Offender District:

(602) 223-2841
GIITEM
The Gang Intelligence Team Enforcement Mission (GITEM) concept was conceived in late 1992 by law enforcement agencies in the metropolitan Phoenix area to maximize law enforcement's effects on gangs. The mutually supportive program was designed to cripple the criminal activity of gangs as well as to reduce the impact on law enforcement agencies that such concentrated enforcement produces. This effort was a response to the need for all law enforcement to take a strong and coordinated stance against the epidemic of gang and street violence.
During the first year of operation, GITEM implemented two separate regions or deployment centers (in Phoenix and Tucson) from which officers could be deployed to support law enforcement agencies statewide. GITEM consisted of employees from 22 different agencies.
In 1996, GITEM established two undercover squads, the first in the nation, specifically to infiltrate and dismantle gangs as criminal enterprises. The squads were based out of Phoenix and Tucson but conducted operations in every area of the state.
In 2003, following the 9/11 attacks, GITEM fell victim to changing priorities and budget shortfalls and went through a significant downsizing process to meet budgetary restraints.
In 2006, Arizona lawmakers took an aggressive stance on stopping gang and transnational-related crimes and revitalized the old GITEM and created the new GIITEM, the Gang and Immigration Intelligence Team Enforcement Mission. In addition, those same lawmakers provided special funding to the task force and added the responsibilities of deterring border-related crimes.
GIITEM's unique approach brings together law enforcement from municipal, county, state, and federal jurisdictions in a coordinated, intelligence-driven approach to deal with gangs and violent human smuggling organizations on a large scale. Traditionally, Arizona agencies addressed the gang and illegal immigration problem individually rather than collectively. This separate approach resulted in displacement rather than focused and directed enforcement efforts and identification. The primary benefit of the GIITEM task force is the combined resolution of the involved agencies and citizens, who ultimately are the recipients of the project's services, to cripple gangs and human smuggling organizations in the state rather than displacing these problems into adjoining jurisdictions.
GIITEM is one of only a few multi-agency statewide gang and illegal immigration task force programs in the country. GIITEM's success can be contributed to its ability to confront gang and illegal immigration problems statewide without regard to the normal jurisdictional issues that affect municipal and county law enforcement agencies.