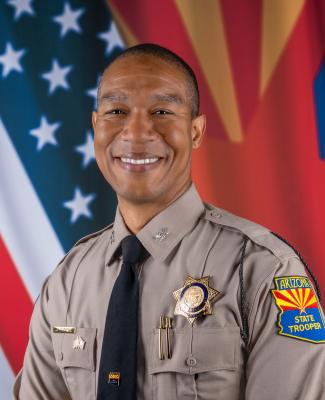 Col. Jeffrey Glover - Director
Director, Arizona Department of Public Safety
Governor Katie Hobbs appointed Colonel Jeffrey D. Glover as Director of the Arizona Department of Public Safety on January 17, 2023. Colonel Glover began his career with the Tempe Police Department in October of 1999 and has over 24 years of law enforcement experience. He worked his way through the ranks, serving the Tempe Police Department in a variety of capacities. Colonel Glover worked as a Field Training Officer, Narcotics Detective, Crime Prevention Detective, Media Relations Sergeant, Patrol Lieutenant, Mobile Field Force Commander, Detention Manager, Acting Commander over 21st Century Policing, Professional Standards Commander, Commander over both Criminal and Special Investigations Divisions to include Homicide, Narcotics and the SWAT Team.
In February of 2020, Colonel Glover retired from the Tempe Police Department with more than 20 years of service. He returned to Tempe Police Department later that year, as Interim Chief of Police and was appointed as permanent Chief of Police in August of 2021.
Colonel Glover places an emphasis on community involvement and education, and provides instruction on various topics including leadership, ethics and professionalism, team dynamics, fair and impartial policing, health and wellness, and safety through communications training.
Colonel Glover is currently the 1st National Vice President for the National Organization of Black Law Enforcement Executives (NOBLE). He is a National Board Member for Mothers Against Drunk Driving (MADD) and is the Co-Chair of the MADD Traffic Safety Committee. Colonel Glover also serves on the International Association of Chief's of Police (IACP) Crime Prevention Committee.
He holds a Bachelor of Science Degree in Education from Northern Arizona University as well as a Master's in Public Administration through the University of Phoenix. Colonel Glover is a graduate of the Arizona Peace Officers and Standards Arizona Leadership Program (ALP #8), the FBI National Academy Command School Session 265, the Police Executive Research Forum's Senior Management Institute for Police, and earned a certificate from the University of Arizona, Eller School in Government Leadership.
When he is not working, Jeffrey enjoys spending time with his wife Tracy and three children Noah, Jonathan and Christopher.